CEIPES, Palermo (IT)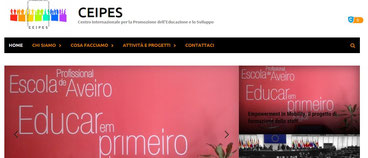 CEIPES (International Centre for the Promotion of Education and Development) is a European non-Governmental Organisation with antennas in 9 European countries, officially recognized as an international organization by the Council of Europe. CEIPES Network is composed of independent antennas who share the same mission, vision and objectives, at the same time that they develop activities connected with local needs. This ensures the European and local dimensions benefit from each other in a reciprocal and fruitful feeding process. 
CEIPES is an independent organization, without links to political parties, but nevertheless politically active and seeking the active participation of all. CEIPES work is inspired in the principles and values of peace and nonviolence, equality in diversity, human rights, democracy and active participation, respect for the environment, cooperation, communication, solidarity, social inclusion, respect, tolerance and interculturality. 
CEIPES is a member of UNOY Peacebuilders since 2011 and we are also part of the Anna Lindh Network in Italy. 
CEIPES is active in the field of social and human development that works through education for a world of peace and equality in order to guarantee the fulfilment of the universal human rights. 
The mission of CEIPES is to foster and support the sustainable development of local communities and individuals' empowerment through education and training, human rights and international cooperation. 
Objectives 
1.To promote education and development for all the people at any age as a tool to foster individual and collective grow. 
2.To fight all forms of discrimination with the aim of contributing to community development and  social inclusion. 
3.To encourage intercultural dialogue with the objective of fostering  mutual understanding and respect between individuals from different cultures, building the awareness of the intercultural enrichment achieved through the sharing of values, traditions and different modus vivendi .
4.To promote peace, nonviolence and human rights as the only way to reach a world of equality and solidarity in which all human beings enjoy their fundamental rights. 
5.To conduct International cooperation projects respecting equal opportunities and the principle of self-determination of people.
CEIPES is divided into different sectors, each one is developing specific projects with the support of professional intervention teams. Each sector is coordinated by a responsible that pays great attention to the quality of the service and activities carried out. The staff of the CEIPES is composed of many professional experts with different competences in several sectors such as psychology, communication, formation, international cooperation, social and cultural mediation, social assistance, informatics and law.
CEIPES counts with the collaboration of 4 full time employees, an external financial manager, legal work adviser, volunteers, at least 3 Grundtvig assistants and interns from various countries that arrive during the whole year.
In this moment CEIPES works in different fields: ICT, innovation and development, youth, education, research, training, culture and social inclusion.