International Projects Centre, Exeter (UK)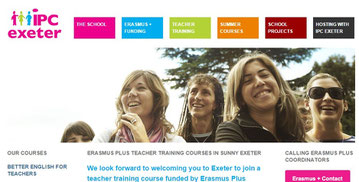 The International Projects Centre (IPC) Exeter has worked for more than 20 years with schools, colleges, tertiary education institutions and higher education institutions in the area of International Education, with a particular emphasis on Europe. Its mission is to bring together teachers, trainers and Educational professionals from across Europe in an atmosphere of support, collaboration and cooperation to deliver projects and training that will support and further European Development planning in sending Institutions. The training programmes are tailored to the needs of participants and sending institutions and support participants' development as professional educators. Bringing together participants from different countries and with different backgrounds and experience allows us to encourage the development of Europe-wide networks of Education professionals. These networks are encouraged to be active, disseminating ideas and sharing experiences and best practice via E-twinning and other communication tools and platforms.
IPC has been offering Teacher Training and English Language training since 1993. The school is a short walk from the centre of Exeter. They have more than 20+ years' experience of providing teacher training courses for teachers from all over the world. 
As the course participant numbers develop so IPC own networks grow and IPC  is able to assist with requests for assistance in European projects involving different sectors of society. IPC staff work with students of different ages, backgrounds and cultural heritage and we believe that our work is contributing in a small but tangible way to understandings between European citizens. Teachers come to IPC for training. Teachers become part of a larger network of teachers. Teachers share ideas and experience. Ideas and experiences are passed on to young people guided by teachers and so we develop European citizens.
 CLIL training courses are targeted at teachers who are planning to teach their own subjects through the medium of English. In this way we are encouraging the use of a common language in Europe and we are offering our expertise to teachers from across Europe who are taking small steps towards improving their English and using English as the working language in their classrooms. These teachers can also be more actively involved in European projects involving schools in different countries. They can disseminate the results of  their training to colleagues and in their local communities – acting as multipliers for CLIL methodology.
Another of our clear objectives is to introduce participants to our warm and welcoming community of hosts who provide accommodation for our course participants. We want to show our collaborators the best that our region has to offer, welcome them into our world and help them to make lasting friendships.